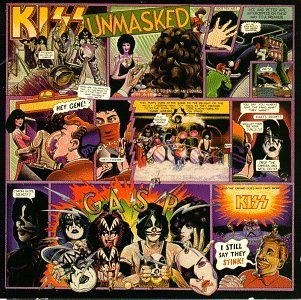 Unmasked is the 8th studio album by KISS. Released May 20, 1980 on Casablanca Records and Filmworks. Prior to the release of Psycho Circus, Unmasked was the last studio album featuring the original lineup of Paul Stanley, Gene Simmons, Ace Frehley and Peter Criss, although Criss actually had no involvement with the recording of the album. Anton Fig (uncredited) played all drums on the album. The album was recorded at the Record Plant and produced by Vini Poncia for Mad Vincent Productions.
The album reached #35 on the U.S. Billboard chart and was certified Gold by the RIAA on July 30, 1980.
The band filmed a promotional video for the single, "Shandi," with Peter Criss. It was the last time Criss would appear with KISS until June 17, 1995.
A lip-synched German television performance of "Talk to Me" and "She's So European."
RIAA: Gold
Track listing
| No. | Title | Writer(s) | Lead vocals | Length |
| --- | --- | --- | --- | --- |
| 1. | "Is That You?" | Gerard McMahon | Paul Stanley | 3:59 |
| 2. | "Shandi" | Paul Stanley, Vini Poncia | Stanley | 3.36 |
| 3. | "Talk to Me" | Ace Frehley | Ace Frehley | 4.00 |
| 4. | "Naked City" | Gene Simmons, Poncia, Bob Kulick, Pepe Castro | Gene Simmons | 3:49 |
| 5. | "What Makes the World Go 'Round" | Stanley, Poncia | Stanley | 4:14 |
| 6. | "Tomorrow" | Stanley, Poncia | Stanley | 3:18 |
| 7. | "Two Sides of the Coin" | Frehley | Frehley | 3:16 |
| 8. | "She's So European" | Simmons, Poncia | Simmons | 3:30 |
| 9. | "Easy As It Seems" | Stanley, Poncia | Stanley | 3:24 |
| 10. | "Torpedo Girl" | Frehley, Poncia | Frehley | 3.31 |
| 11. | "You're All That I Want" | Simmons, Poncia | Simmons | 3.04 |
Personnel
Edit
Additional Personnel
Anton Fig - drums
Vini Poncia - keyboards, background vocals