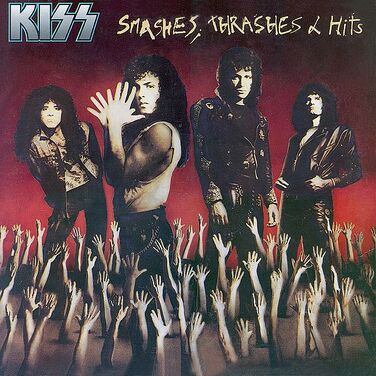 Smashes, Thrashes & Hits is a greatest hits album by the American hard rock band Kiss. It was the third hits album overall but the second such album released by the band in the United States (Killers was not released in the United States originally). Of the 15 songs on the album, two were new compositions and three were released after the band's unmasking in 1983. The remaining ten were all released during the band's years in makeup.

RIAA: 2x Platinum
New songsEdit
The two new songs on Smashes, Thrashes & Hits were "Let's Put The X In Sex" and "(You Make Me) Rock Hard," which feature the same polished production style as 1987's Crazy Nights. They were both produced and co-written by guitarist/vocalist Paul Stanley, and were accompanied by videos that received moderate airplay on MTV.
New versionsEdit
Nearly all of the songs recorded by the band's original lineup were altered in one way or another. One song, "Beth," was re-recorded with lead vocals by then-drummer Eric Carr,[2] who had replaced the original drummer Peter Criss in 1980.
Track listingEdit
North American edition
No.
Title
Writer(s)
Original album
Length
1.
"Let's Put the X in Sex"
Paul Stanley, Desmond Child
Previously unreleased
3:48
2.
"(You Make Me) Rock Hard"
Stanley, Child, Diane Warren
Previously unreleased
3:26
3.
"Love Gun" (remix)
Stanley
Love Gun (1977)
3:31
4.
"Detroit Rock City" (remix)
Stanley, Bob Ezrin
Destroyer (1976)
3:45
5.
"I Love It Loud" (remix)
Gene Simmons, Vinnie Vincent
Creatures of the Night (1982)
3:47
6.
"Deuce" (remix)
Simmons
Kiss (1974)
3:20
7.
"Lick It Up"
Vincent, Stanley
Lick It Up (1983)
3:53
8.
"Heaven's on Fire"
Stanley, Child
Animalize (1984)
3:19
9.
"Calling Dr. Love" (remix)
Simmons
Rock and Roll Over (1976)
3:38
10.
"Strutter" (remix)
Stanley, Simmons
Kiss (1974)
3:38
11.
"Beth" (Eric Carr vocal)
Peter Criss, Stan Penridge, Ezrin
Destroyer (1976)
2:46
12.
"Tears Are Falling"
Stanley
Asylum (1985)
3:54
13.
"I Was Made for Lovin' You"
Stanley, Child, Vini Poncia
Dynasty (1979)
4:29
14.
"Rock and Roll All Nite" (remix)
Stanley, Simmons
Dressed to Kill (1975)
2:56
15.
"Shout It Out Loud" (remix)
Stanley, Simmons, Ezrin
Destroyer (1976)
3:07
'Total length:'
'51:54'
United Kingdom edition
No.
Title
Writer(s)
Original album
Length
1.
"Let's Put the X In Sex"
Stanley, Child
Previously unreleased
3:48
2.
"Crazy Crazy Nights"
Stanley, Adam Mitchell
Crazy Nights (1987)
3:45
3.
"You Make Me Rock Hard"
Stanley, Child, Warren
Previously unreleased
3:26
4.
"Love Gun" (remix)
Stanley
Love Gun (1977)
3:31
5.
"Detroit Rock City" (remix)
Stanley, Ezrin
Destroyer (1976)
3:45
6.
"I Love It Loud" (remix)
Simmons, Vincent
Creatures of the Night (1982)
2:44
7.
"Reason to Live"
Stanley, Child
Crazy Nights (1987)
3:59
8.
"Lick It Up"
Vincent, Stanley
Lick It Up (1983)
3:53
9.
"Heaven's On Fire"
Stanley, Child
Animalize (1984)
3:19
10.
"Calling Dr. Love"
Simmons
Rock and Roll Over (1976)
3:38
11.
"Strutter" (remix)
Stanley, Simmons
Kiss (1974)
3:38
12.
"Beth" (Eric Carr vocal)
Criss, Penridge, Ezrin
Destroyer (1976)
2:46
13.
"Tears Are Falling"
Stanley
Asylum (1985)
3:54
14.
"I Was Made for Lovin' You"
Stanley, Child, Poncia
Dynasty (1979)
4:29
15.
"Rock and Roll All Nite" (remix)
Stanley, Simmons
Dressed to Kill (1975)
2:56
16.
"Shout It Out Loud" (remix)
Stanley, Simmons, Ezrin
Destroyer (1976)
3:07
'toal lengh''
56.18