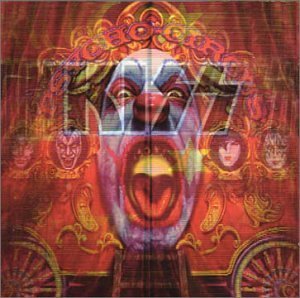 Psycho Circus is the 18th studio album by KISS. Released September 22, 1998 on Mercury Records, produced by Bruce Fairbairn.
Psycho Circus debuted at #3 on the Billboard 200, selling 110,000 copies in its first week of release, and was certified Gold by the RIAA on October 22, 1998
The track "You Wanted the Best" is the only Kiss song in which lead vocals are shared by the entire lineup.
RIAA: Gold
[[[Psycho Circus|edit]]] Track listing
Edit
No.
Title
Writer(s)
Lead vocals
Length
1.
"Psycho Circus"
Paul Stanley

, Curtis Cuomo

Stanley
5:30
2.
"Within"
Gene Simmons
Simmons
5:10
3.
"I Pledge Allegiance to the State of Rock & Roll"
Stanley, Cuomo, Holly Knight
Stanley
3:32
4.
"Into the Void"
Ace Frehley

, Karl Cochran

Frehley
4:24
5.
"We Are One"
Simmons
Simmons
4:41
6.
"You Wanted the Best"
Simmons
Simmons, Stanley, Frehley, Criss
4:15
7.
"Raise Your Glasses"
Stanley, Knight
Stanley
4:14
8.
"I Finally Found My Way"
Stanley, Bob Ezrin
Criss
3:40
9.
"Dreamin'"
Stanley, Bruce Kulick
Stanley
4:12
10.
"Journey of 1,000 Years"
Simmons
Simmons
4:49
11.
"In Your Face" (Limited Edition and Japan Only)
Simmons
Frehley
3:40
Limited edition bonus disc
No.
Title
Writer(s)
Lead vocals
Length
1.
"Psycho Circus" (live)
Stanley, Cuomo
Stanley
5:34
2.
"Let Me Go, Rock 'N' Roll" (live)
Stanley, Simmons
Simmons
5:33
3.
"Into the Void" (live)
Frehley, Karl Cochran
Frehley
9:10
4.
"Within" (live)
Simmons
Simmons
7:57
5.
"100,000 Years" (live)
Stanley, Simmons
Stanley
5:17
6.
"Black Diamond" (live)
Stanley
Criss, intro by Stanley
6:12
A limited edition was released in Brazil on the wake of the Kiss concerts in the country, adding the second disc with live tracks, like the Japanese release, but without the bonus track "In Your Face" on the first disc. In Europe this expanded-release was tied-in with the tour, retaining the prismatic jewel-case of the original CD-release but adding a new sticker to the front and amended tray-insert.

Personnel
Uncredited Musicians
Edit
Tommy Thayer - lead guitar on all tracks except 4 and 6
Kevin Valentine - drums on all tracks except 4