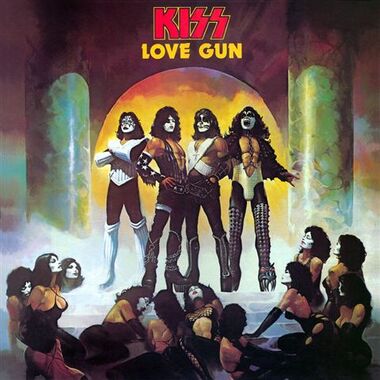 Love Gun is the sixth studio album by the American band KISS. It was certified Platinum on June 30, 1977 (the day the album released).[1]
Love Gun is notable for being the first Kiss album to feature a lead vocal performance from lead guitarist Ace Frehley. This makes Love Gun the first Kiss album to feature lead vocal performances from all four band members. It was also the last studio album to feature the entire original lineup of Kiss on every track, as drummer Peter Criss was replaced by session drummer Anton Fig for much of 1979's Dynasty.[2]
A cardboard "Love Gun" (assembly required) was included inside the album,[3] along with a Kiss merchandise order form.[4]
RIAA: 3x Platinum
____________________________________________________________________________________________
Track listing
| No. | Title | Writer(s) | Lead vocals | Length |
| --- | --- | --- | --- | --- |
| 1. | "I Stole Your Love" | Paul Stanley | Stanley | 3:04 |
| 2. | "Christine Sixteen" | Gene Simmons | Simmons | 3:14 |
| 3. | "Got Love for Sale" | Simmons | Simmons | 3:29 |
| 4. | "Shock Me" | Ace Frehley | Frehley | 3:49 |
| 5. | "Tomorrow and Tonight" | Stanley | Stanley | 3:40 |
| 6. | "Love Gun" | Stanley | Stanley | 3:18 |
| 7. | "Hooligan" | Peter Criss, Stan Penridge | Criss | 3:01 |
| 8. | "Almost Human" | Simmons | Simmons | 2:49 |
| 9. | "Plaster Caster" | Simmons | Simmons | 3:27 |
| 10. | "Then She Kissed Me" | Jeff Barry, Ellie Greenwich, Phil Spector | Stanley | 3:02 |
Personnel
Paul Stanley - vocals, rhythm guitar, bass on "Love Gun"
Gene Simmons - vocals, bass
Ace Frehley - lead guitar, vocals
Peter Criss - drums, percussion, vocals