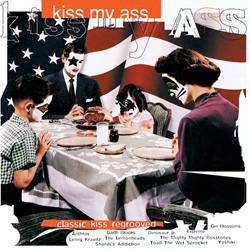 Kiss My Ass: Classic Kiss Regrooved is a 1994 tribute album, featuring a variety of artists covering songs by the American rock band Kiss. Released to coincide with Kiss' 20th anniversary, the album was certified gold by the RIAA[1], and spent 13 weeks on the charts.
"Hard Luck Woman" was performed by Kiss themselves with award-winning country singer Garth Brooks (who had admitted to being a big fan of the band during some interviews) on lead vocals.
"Calling Dr. Love" was performed by one-off band Shandi's Addiction, made up of vocalist Maynard James Keenan (Tool), guitarist Tom Morello (Rage Against the Machine, Audioslave), bassist Billy Gould (Faith No More), and drummer Brad Wilk (Rage Against the Machine, Audioslave). The band's name is taken from "Shandi," a song from the 1980 Kiss album Unmasked. It is also a wordplay on Jane's Addiction.[citation needed]
"Strutter", sung by Extreme, is an unusual recording, as it also incoprorates the main riff to "God of Thunder" in the middle section prior to and during Nuno Bettencourt's guitar solo, the vocal opening to "Heaven's on Fire" into the reprisal of the lyric "But when she wants/She'll pass you by", and the chorus of "Shout It Out Loud" sung by the backing vocalist. Also, after the song has ended, one of the band members sings the introductory guitar lick to "Love Gun".
Canadian, Japanese and Australian copies of the album have their respective flags in place of the American flag of the U.S. version.
RIAA: Gold
Cover art and title
The rights to Ace Frehley's makeup were not cleared in time for release of the CD, hence the inclusion of a hybrid form of Paul Stanley's "Bandit" design that was briefly used in some early shows and promotional photos

Track listing
"Deuce" (Gene Simmons) – 4:10

Performed by Lenny Kravitz featuring Stevie Wonder on harmonica

"Hard Luck Woman" (Paul Stanley) – 3:14

Performed by Garth Brooks featuring KISS

"She" (Simmons, Stephen Coronel) – 4:53
"Christine Sixteen" (Simmons) – 3:09

Performed by Gin Blossoms

"Rock and Roll All Nite" (Stanley, Simmons) – 2:54

Performed by Toad the Wet Sprocket

"Calling Dr. Love" (Simmons) – 4:51

Performed by Shandi's Addiction

"Goin' Blind" (Simmons, Coronel) – 3:24
"Strutter" (Stanley, Simmons) – 4:39
"Plaster Caster" (Simmons) – 3:02

Performed by The Lemonheads

"Detroit Rock City" (Stanley, Bob Ezrin) – 4:21

Performed by The Mighty Mighty Bosstones

"Black Diamond" (Stanley) – 7:07
"Unholy"
(Simmons, Vinnie Vincent) – 3:30

Performed by Die Ärzte, international and U.S. vinyl version only
Ad blocker interference detected!
Wikia is a free-to-use site that makes money from advertising. We have a modified experience for viewers using ad blockers

Wikia is not accessible if you've made further modifications. Remove the custom ad blocker rule(s) and the page will load as expected.