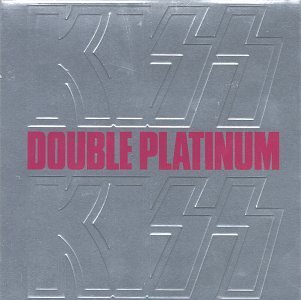 Double Platinum is the first greatest hits album by the American hard rock band Kiss.
Many of the songs on Double Platinum were remixed and significantly differ from their original versions. In the case of "Strutter," it was re-recorded with a slight disco beat and dubbed as "Strutter '78." Other songs ("Hard Luck Woman," "Detroit Rock City") had sections completely removed, while the beginning of "Black Diamond" was repeated at the end, fading out at the start of the first verse and giving the song a "wrap around" feel. Sean Delaney stated that it took eleven days to remix and re-edit the songs.[citation needed]
The original vinyl release, in a gatefold-sleeve, had an embossed, silver-foiled sleeve, with the band members in bas-relief inside. The album was packaged with a printed "Platinum Award" thanking the Kiss Army for making the band a "Double Platinum Success". Later reissues would retain the gatefold-sleeve but replaced the logo with a printed, red-type version and the band members were now represented inside by photos rather than the bas illustrations. When the album was remastered for CD in the US it mimicked the original vinyl.

RIAA: Platinum
----------------------------------------------------------------------------------------------------------------------------------------------------------------
Track listin
"Strutter '78" (Paul Stanley, Gene Simmons) – 3:41
"Do You Love Me?" (Stanley, Bob Ezrin, Kim Fowley) – 3:33
"Hard Luck Woman (Remix)" (Stanley) – 3:24
"Calling Dr. Love (Remix)" (Simmons) – 3:20
"Let Me Go, Rock 'n' Roll" (Stanley, Simmons) – 2:15
"Love Gun" (Stanley) – 3:27
"God of Thunder" (Stanley) – 4:30
"Firehouse" (Remix) (Stanley) – 3:20
"Hotter Than Hell" (Stanley) – 3:30
"I Want You" (Stanley) – 3:02
"Deuce (Remix)" (Simmons) – 3:02
"100,000 Years (Remix)" (Stanley, Simmons) – 3:24
"Detroit Rock City (Remix)" (Stanley, Ezrin) – 3:35
"Rock Bottom (Intro) / She (Remix)" (Ace Frehley, Stanley)/(Simmons, Stephen Coronel) – 5:27
"Rock and Roll All Nite" (Stanley, Simmons) – 2:45
"Beth" (Peter Criss, Stan Penridge, Ezrin) – 2:45
"Makin' Love" (Stanley, Sean Delaney) – 3:12
"C'mon and Love Me (Remix)" (Stanley) – 2:54
"Cold Gin" (Frehley) – 4:31
"Black Diamond (Remix)" (Stanley) – 4:14