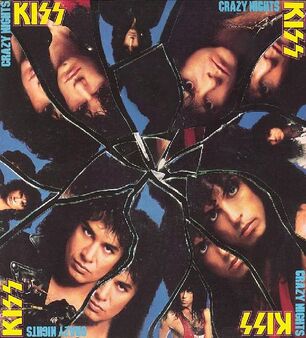 Crazy Nights is the 14th studio album by American band Kiss. The album was recorded in June 1987 and officially released on September 18th, 1987 by Mercury and Vertigo in Europe. The album featured keyboards which was another departure in their music style changing from their Lick It Up/Animalize/Asylum heavy metal sound into the pop-metal sound.[4] The album peaked at #18 on the U.S. Billboard 200 chart,[5] making Crazy Nights the highest-charting Kiss album of the 1980s in the United States. The album was certified Platinum on November 18, 1987 in Canada[6] and few months later in the USA, on February 18, 1988.[7] It was re-released in 1998 as part of the Kiss Remasters series and to date is the last Kiss album to have been remastered.
"Crazy Crazy Nights" and "Reason to Live" were played regularly on live shows until Eric Carr's death in 1991 (although Crazy Nights returned to KISS' set on the Sonic Boom Over Europe Tour). Otherwise, the album has not been performed live ever since.
RIAA: Platinum
Track listing
No.
Title
Writer(s)
Lead vocals
Length
1.
"Crazy Crazy Nights"
Paul Stanley

, Adam Mitchell

Paul Stanley
3:47
2.
"I'll Fight Hell to Hold You"
Stanley, Mitchell, Bruce Kulick
Stanley
4:10
3.
"Bang Bang You"
Stanley, Desmond Child
Stanley
3:53
4.
"No, No, No"
Gene Simmons

, Kulick, Eric Carr

Gene Simmons
4:19
5.
"Hell or High Water"
Simmons, Kulick
Simmons
3:28
6.
"My Way"
Stanley, Child, Bruce Turgon
Stanley
3:58
7.
"When Your Walls Come Down"
Stanley, Mitchell, Kulick
Stanley
3:25
8.
"Reason to Live"
Stanley, Child
Stanley
4:00
9.
"Good Girl Gone Bad"
Simmons, Davitt Sigerson, Peter Diggins
Simmons
4:35
10.
"Turn on the Night"
Stanley, Diane Warren
Stanley
3:18
11.
"Thief in the Night"
Simmons, Mitch Weissman
Simmons
4:07
Personnel
Paul Stanley - vocals, rhythm guitar
Gene Simmons - vocals, bass
Bruce Kulick - lead guitar, backing vocals
Eric Carr - drums, percussion, backing vocals
Ad blocker interference detected!
Wikia is a free-to-use site that makes money from advertising. We have a modified experience for viewers using ad blockers

Wikia is not accessible if you've made further modifications. Remove the custom ad blocker rule(s) and the page will load as expected.