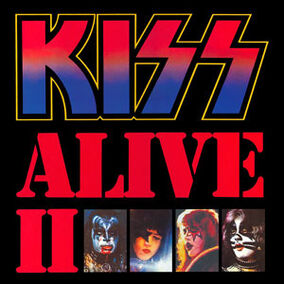 Alive II is a 1977 live album from
Kiss
. It is the group's eighth album and second live album
RIAA: 4x Platinum
Track listing
6. "Calling Dr. Love" (Simmons) – 3:32
Recorded at The Forum, Los Angeles, CA, August 25–28, 1977

7. "Christine Sixteen" (Simmons) – 2:45
Recorded at The Forum, Los Angeles, CA, August 25–28, 1977
8. "Shock Me" (Ace Frehley) – 5:51
Recorded at The Forum, Los Angeles, CA, August 25–28, 1977
9. "Hard Luck Woman" (Stanley) – 3:06
10. "Tomorrow and Tonight" (Stanley) – 3:20
Recorded at the Capital Theatre, Passaic, NJ and Electric Lady Studios, NYC, NY, September 1977
11. "I Stole Your Love" (Stanley) – 3:36
Recorded at soundcheck, The Forum, Los Angeles, CA, August 25–26, 1977
12. "Beth" (Peter Criss, Ezrin, Stan Penridge) – 2:24
Recorded at Budokan Hall, Tokyo, Japan, April 2, 1977
13. "God of Thunder" (Stanley) – 5:16
Recorded at The Forum, Los Angeles, CA August 25–28, 1977
14. "I Want You" (Stanley) – 4:14
Recorded at Budokan Hall, Tokyo, Japan, April 2, 1977
15. "Shout It Out Loud" (Stanley, Simmons, Ezrin) – 3:37
Recorded at The Forum, Los Angeles, CA, August 25–28, 1977
(New studio tracks)
16. "All American Man" (Stanley, Sean Delaney) – 3:13 (Lead vocals - Paul Stanley)
Recorded at the Capital Theatre, Passaic, NJ and Electric Lady Studios, NYC, NY, September 1977
17. "Rockin' in the U.S.A." (Simmons) – 2:44 (Lead vocals - Gene Simmons)
Recorded at the Capital Theatre, Passaic, NJ and Electric Lady Studios, NYC, NY, September 1977
18. "Larger Than Life" (Simmons) – 3:55 (Lead vocals - Gene Simmons)
Recorded at the Capital Theatre, Passaic, NJ and Electric Lady Studios, NYC, NY, September 1977
19. "Rocket Ride" (Frehley, Delaney) – 4:07 (Lead vocals - Ace Frehley)
Recorded at the Capital Theatre, Passaic, NJ and Electric Lady Studios, NYC, NY, September 1977
20. "Anyway You Want It" (Dave Clark) – 2:33 (Lead vocals - Paul Stanley)
Recorded at the Capital Theatre, Passaic, NJ and Electric Lady Studios, NYC, NY, September 1977

Personnel
with
Bob Kulick - lead guitar on "All American Man", "Rockin' in the U.S.A.", and "Larger Than Life"
Ed Balandas - The Introduction "Voice"
Ad blocker interference detected!
Wikia is a free-to-use site that makes money from advertising. We have a modified experience for viewers using ad blockers

Wikia is not accessible if you've made further modifications. Remove the custom ad blocker rule(s) and the page will load as expected.